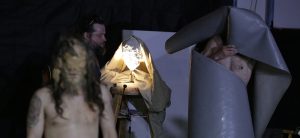 Creative sources of performer
The basics of complementary art in practical exercises.
Intensive workshop with Andrej Kalinka and Milan Kozánek.
30.3. – 4.4. 2020 / DAMU (Thetare Academy), Praque (CZ)
The aim of the workshop is to incite in the participants innovative thinking about performing arts, searching for a platform where individual artistic media in art performance create complementary connections and new artistic possibilities and discover who is new / nowadays /performing artist and how to gradually through practical exercises develop creation of complementary works. We will work with movement, music, visual arts, text, acting. Individually and then gradually with the connections of all components.
We will focus on the potential of the creative sources of performer in the process of creation. One of the tasks of the workshop will be to find resources for the creative process that allow performers to open paths to diverse approaches and unexplored links of artistic material. Initial impulses will be based on anatomy, body sound, musical instrument, text, creative art.How to free yourself from the assumptions and assumptions of your own limits? What is the role of acting, movement and voice technique in the process? How to work with different techniques so that they are not a constraint for the creative process, but help the performer to develop their qualities? These are some of the topics we will be working on at the workshop.
Workshop themes – their relationships, definitions, functions, interactions:
Anatomy of movement – what we are coming from
Object – sculpture, object, props
Sound – picture of the sound, sound of the image, functionality, live sound versus recorded sound
Bearer – interpreter, performer, actor, dancer, musician
Rhythm – in picture, movement and sound, in construction and structure of the art work
Information and symbol – differentiation, use
The program of the workshop:
The workshop will be divided into two phases. In the morning session we will focus on practical exercises, experiencing physical techniques as well as the basis of music and theoretical aspects of the components in which we work in complementary art. We will strengthening the bones structure, working on the alignment of our body and learning about correct physio-dynamics. We will work with rhythm in various meanings (musical, in the construction and structure of the music), with information and symbol, and we will learn about basic differences and functions of objects (sculpture, object, props) in complementary art. At this phase it will be important to make familiar with each components.
The afternoon session of the workshop will be devoted to the creative process and research. We will work with the complementarity of the group and with complementarity of individual. We will develope the previous exercises to the next stage where we will connect music, fine art, verbal and movement expressions into a united language. The basis for this phase will be to use the experiences of each components and gradually get them into the dialogue and learn to perceive their interconnections, interplay and mutual interaction.
Price (not for workshop in Prague):
146,- € EARLY BIRD untill 12.8. 2019
168,- € Regular
Applications:
send it to milan@c-lap.art
From public sources supported by Slovak Art Council.

c/LAP
c/LAP Platform (contemporary/LaboratoryAtelierPerformance) connects artists, who have similar work approach based on research and experiment.
Its aim is to stimulate and generate creation of artists and artistic groups, to support their mutual interactions through workshops, artistic researches and laboratories, to enable their artistic growth and develop creative and innovative thinking about theatre and dance work within international context. Founders of c/LAP are: Artyci Dance Company and the artistic group Honey&Dust with their leaders: Milan Kozánek and Andrej Kalinka.
Andrej Kalinka, director, music composer, performer. At the beginning of his artistic career he worked mainly on music, he studied musical composition and conducting. As a composer he worked with dozens of different theater and dance companies, from drama to puppet theater, contemporary dance, folk theater and opera. In addition to music, he gradually began to write librettos for perfromances, directing them , create visual concepts and this way he started creating an authentic artistic language combining fine art, theater, movement and music in creations  between performance, theater, concert and installation. He is a co-founder and leading figure of the artistic group HONEY AND DUST, with which he has created the main part of his works, among others such as Beauty and ugliness, EU.GENUS, Home Eros Faith and others. He has received several awards for his work (e.g. in Slovakia, Croatia, Thailand). His works are performed in theaters as well as in galleries, on concert stages,  in industrial or sacral spaces.
Milan Kozánek holds a master's degree from the University of Performing Arts in Bratislava. Since graduating he has worked as a dance teacher, choreographer and expert art advisor. He has developed his own system of teaching over more than twenty years of researching and teaching at institutions such as Salzburg Experimental Academy of Dance (SEAD), Tanz Quartier Wien, Konservatorium Wien University /AT, Northern School of Contemporary Dance at Leeds /UK, TIP – School for Dance, Improvisation and Performance in Freiburg /GER, University of Calgary /Canada and at many other dance institutions. In 1996, he founded the Dance Company Artyci together with Zuna Vesan Kozánková. They have created 12 dance pieces, which were presented in Slovakia and abroad. (Germany, Austria, Poland, Czech Republic, Hungary, Canada, Thailand, China, Taiwan…). From 2010 he has developed intensive artistic collaboration and exchange with creators and theater performers focused on connection between physical theater, movement, text and voice. He has been part of many theater research projects with theater artists from companies and institutions like Studio Matejka/PL, Teatr Piesn Kozla/PL, Res Ration Network/GR and in Slovakia with Andrej Kalinka/Honey and Dust.
Creative sources of a performer