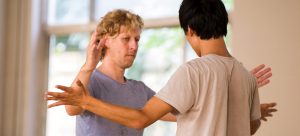 Milan graduated from the Department of Dance at the Academy of Performing Arts in Bratislava (SK). Since the graduation he has worked as a dance teacher, choreographer and expert advisor. He has developed his own particular pedagogical aproach and system throughout more that 20 years of regular teaching and researching in institutions such as Salzburg Experimental Academy of Dance (SEAD), Tanz Quartier Wien, Konservatorium Wien University (A), Northern School of Contemporary Dance in Leeds (UK), TIP – School for Dance, Improvisation and Performance in Freiburg (D), University of Calgary (Canada). In 1996, he and Zuna Vesan Kozánková founded the Artyci Dance Company. They have created 16 dance works that were presented in Slovakia, as well in abroad (Germany, Austria, Poland, Czech Republic, Hungary, Canada, Thailand, China, Taiwan etc.).
Since 2010 he has been developing intensive artistic collaboration with creators and theatrical performers who are looking for a connection between physical theater, movement, text, voice and singing. Milan has been a part of many theatrical research projects with theater artists from artistic groups such as Studio Matejka (PL), Song of the Goat Theatre (PL), Res Ratio Network (GR), Honey and Dust (SK). His main topic and fascination with his artistic as well as pedagogical work is a human. He implements his relationship with eastern philosophies by studying Chinese and Japanese caligraphy, practicing intuitive archery, studying Chinese philosophy by means of a system of exercises I Liq Chuan of the master Sam F.S. Chin. He devotes himself theoretically as well practically to an oracle practice based on the Book of Changes – Yi Jing.
read c/lap
In addition to working with professional dancers and actors, Milan has been also teaching people without dance experience.