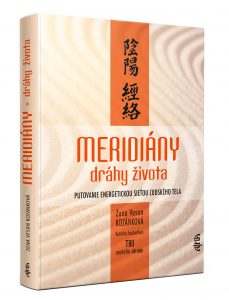 In 2020, Zuna published her second book, MERIDIANS – Pathways of Life, in which she introduced the human body through the eye of Taoist philosophy via a network of energy channels.
The book illustrates the logical and at the same time magical world of Qi energy and its flows in pathways – meridians. Through universal information in the text, but also through the visuals, it brings a logical and poetic picture of this part of the "energy anatomy" of our body and provides people with ways to use this knowledge in their lives through various exercises. It is a valuable guide for people working with the human body, people interested in Qigong, Chinese medicine, Shiatsu, martial arts, yoga, massage, etc. However, it is also intended for "ordinary people" who want to learn more about their body, or solve some health problems by their own understanding and their action.
The book has become a Slovak bestseller. It is available in Slovak only.
---
What does Vladimír Ando, the ​​author of the book collection Classical Chinese Medicine write about the book?
"The book provides an extremely detailed immersion into the vital network of the human body, as we know it from Chinese medicine, Qigong or Taiji Quan. It not only draws the thin lines we are used to from acupuncture maps, but thanks to extensive overlaps of interpretation, a three-dimensional model of man, a conglomerate of Qi, appears before our eyes, as probably seen by the ancient sages who left us this knowledge. The valuable fact about this book is that it is based on the author's own experience and thus conveys many immediate experiences. Specialists will certainly find in it a lot of additional information about the network of Qi channels and points on them, their specific connections with the physiology and psyche of man, but also with environmental factors, even cosmic ones, which directly affect us. But it can be just as beneficial for laymen.
---
Some readers references:

"This a meridians bible."
Martina_cardiologist
"Zuna's books are amazing treasures that I include as 'compulsory reading' at our School of Chinese Dietetics. I am very grateful for this piece of work and we are glad to have Zuna here. "
Monika_Chinese Dietetics School
"I am a laic, but I am interested in these things. In books on Chinese medicine, it's all too complicated for me.  Thanks to this book, I've finally been able to understand it."
Norbert_professional photographer
---
view of illustations made by Peter Zuffa
---
Preview of the book (in Slovak only)
MERIDIANS-Pathways of Life