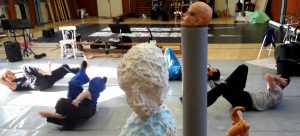 c/LAP Platform (contemporary/LaboratoryAtelierPerformance) connects artists, who have similar work approach based on research and experiment.
Its aim is to stimulate and generate creation of artists and artistic groups, to support their mutual interactions through workshops, artistic researches and laboratories, to enable their artistic growth and develop creative and innovative thinking about theatre and dance work within international context.
Founders of c/LAP are: Dance Company Artyci and the artistic group Honey&Dust with their leaders: Milan Kozánek and Andrej Kalinka.
Upcoming workshops
Creative sources of a performer – Milan Kozánek & Andrej Kalinka
9.– 13.9. 2019 / Bratislava, Nová Cvernovka
Implemented workshops
Body as an Instrument – Milan Kozánek & Andrej Kalinka / 7.-18.11. 2018, Banská Bystrica (SK)
From Anatomy to Composition – Milan Kozánek, Andrej Kalinka, Zebastián Mendéz Marín, Lívia Mendéz Marín Balážová / 31.10. – 4.11. 2018, Žilina (SK)
From Anatomy to Composition – Milan Kozánek & Andrej Kalinka / 4.- 8. 7. 2018, Žilina (SK)
Body as an Instrument – Juliana Bloodgood-Habel, Rafal Habel & Milan Kozánek / 6.10. – 11.10. 2017, Bratislava  (SK)