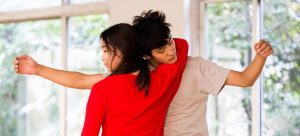 Embodied Yin-Yang
1.– 5. 5. 2019_Space Špirála /Bratislava (SK)
Intensive seminar for dancers, actors of physical theatre and movers.

When performers get to know the YIN and YANG principles of their bodies, they are able to work better with the energy and mind. They also get better physical understanding of the pure body alignement. Thus their bodies and minds get more flexible. Other enriching could be more efective and more healthy work with the body, which can prolong performer´s active life.
The changes between YIN and YANG will be applied by the development of the technique, floor-work, contact improvisation and partnering. We will use these principles as topics for improvisation as well.
After many years of exploring and studying the two complementary forces of YIN-YANG, we will share by means of dance our knowledge with the participants of the workshop and we will move and develop it further together. We will discover the transformation between YIN and YANG in our body or on the surface of the body, but also in the relationship of the body to the environment or the partner. Old Eastern knowledge divides the surfaces and parts of the body into yin and yang. We will show how we use it with different anatomical body parts, which give us structural support. Of course, they have different roles and options that should be respected. A performer, often out of ignorance, uses them the opposite way, resulting in a greater tension in the body, loss of balance, blockages, pain, etc. The workshop provides an insight into this concept, which has been applied to the human body over the millennium through Qigong or Tai-chi-chuan exercises and and we, being artists, we are inspired by it.
Contents of the workshop:
– activating the vital energy to be used in concious delivering to various body levels
– healing Qigong focused on yin-yang transformation
– getting acquainted with yin and yang body surfaces and structures
– discovering of new movement possibilities by using this knowledge
– discovering of physio-dynamics of the body, its natural force in motion, efective spending of the force for movement, readiness for fast and clear body reactions after outer impulses
– utilization of the work with yin-yang in searching for new movement vocabulary and creation
– conscious work with the essential physiological and energetic centers
This workshop is open for mixed group of experienced and less experienced dancers and movers.

"The movement concept of Milan and Zuna goes far beyond physical processes. It is a multidimentional journey to our deepest self as well as the most concrete technique of contemporary dance that you can study."
PIOTR ZIEMBA, tai-ji quan master / Poland
From public sources supprted by Slovak Art Council

More about Dancing Qigong project you can find here
Workshop will led by
Zuna and Milan
Price 
142- € Early Bird untill 5.4. 2019
165,- € Regular
112,- € Students (first 5 students)
Venue
Space Špirála / Bratislava (SK)
Schedule
Wednesday-Saturday: 10,30 – 13,00 / lunch brake / 14,30 – 17,00
Sunday: 10,30 – 14,00
Apply via this form: