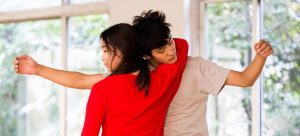 Embodied Yin-Yang
1.– 5. 5. 2019_Space Špirála /Bratislava (SK)
After many years of exploring and studying the two complementary forces of YIN-YANG, we will share by means of dance our knowledge with the participants of the workshop and we will move and develop it further together. We will discover the transformation between YIN and YANG in our body or on the surface of the body, but also in the relationship of the body to the environment or the partner.
Yin-yang, the cosmic principles of a single Qi energy, allow by their rotation and interaction the birth and development of the world and everything in it. This principle also plays an important role in dancing. It is a part of kinetic, spatial or musical dynamics, but it also respects the natural disposition of the body and the possibilities of movement. Old Eastern Knowledge divides the surfaces and parts of the body into yin and yang. Of course, they have different roles and options that should be respected. Dancer, often out of ignorance, uses them the opposite way, resulting in a greater tension in the body, loss of balance, blockages, pain, etc. The workshop provides an insight into this concept, which has been applied to the human body over the millennium through Qigong or Tai-chi-chuan exercises.
Contents of the workshop:
– activating the vital energy to be used in concious delivering to various body levels
– healing Qigong focused on yin-yang transformation
– getting acquainted with yin and yang body surfaces and structures
– discovering of new movement possibilities by using this knowledge
– discovering of physio-dynamics of the body, its natural force in motion, efective spending of the force for movement, readiness for fast and clear body reactions after outer impulses
– utilization of the work with yin-yang in searching for new movement vocabulary and creation
– conscious work with the essential physiological and energetic centers
This workshop is open for mixed group of experienced and less experienced dancers and movers.
More about Dancing Qigong project you can find here
Workshop will led by
Zuna and Milan
Price 
142- € Early Bird untill 5.4. 2019
165,- € Regular
112,- € Students (first 5 students)
Venue
Space Špirála / Bratislava (SK)
Apply via this form: