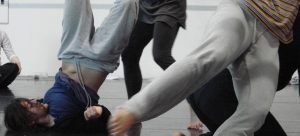 Intensive week workshop of Qigong, New Dance, improvisation and contact improvisation based on the work with the joints. Freedom, open movement possibilities and joint nourishment are the main topics of this workshop.
Upocoming weekend workshop_ 1. and 2. June 2019_Bratislava
Movement capacity of the (dancing) body depends on the natural range of movement of particular joints, the ability of releasing the muscles crossing the joints as well as the elasticity of ligaments strengthening the joint capsule. We are going to rediscover the full movement potential of every joint, by using anatomic images put into dance improvisation, play with inner communication with our muscles in order to relax them and work with energy giving elasticity to the ligaments.
Besides of New Dance training and improvisation, Qigong, which works with energy, is going to constitute an important part of the workshop. It is a way of getting your joints into your consciousness and reinventing the possibilities of your joints and also revitalizing them. That is also why we are going to work with the energy of our kidneys where the main source of our energy Qi is stored. We will dive into our roots and learn how to strenghten and nourish them. This topic is also connected to lubrication as essential for good functioning of joints, decreasing wear and providing nourishment for the cartilage.
Our physical articulation via joints is closely related to our ability of mental and verbal articulation. This aspect of the workshop is going to be developed in the form of a training and used in the creative process during afternoon movement research.
This "joint trip" is sensitivly guided by Zuna as a part of Dancing Qigong project.
Schedule for 5 days workshops
10,00 – 11,00 Qigong focused on energy flow in joints led up to dance
11,00 – 13,00 New dance
15,00 – 17,00 Movement research based on joints
Upcoming workshop
1st and 2nd June 2019_Bratislava, Yoga House
Appliciation for the February workshop make via Yoga House.

Implemented Liquid Joints workshops
Bratislava (SK) 2013, Thessaloniki (GR) 2015, Prague (CZ) 2015 a 2018, Hongkong (CN) 2018
Apply for the workshop: