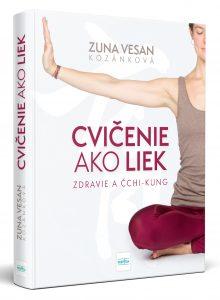 In 2021, Zuna's third book, Qigong as a Medicine, was published. It was written at the time of the Covid lock-downs, when Zuna intensively practiced Qigong with her students online. It originated as a need to emphasize clear instructions for the exercises, to give the exercises a philosophical and anatomical context, and to encourage beginners to practice. The book offers compilations of exercises from ancient China and Japan, which Zuna, after her many years of experience, has transformed into nowaday modern form. And these are not just exercises for the body, but also for the mind, helping to purify the emotions we are often swept away by. The great value of the book is that it provides a deeper theoretical and philosophical immersion into many contexts and thus explains in detail the impact of each exercise on health. The book is also linked to video demonstrations of the exercises on her youtube channel Wuwei Space.
The book is available in Slovak only.
What does acupuncture and rehabilitation doctor MUDr. Jozef Šmirala say about the book?
"Zuna introduces herself through her books as a great promoter of Taoism and Chinese medicine and as a long-time and experienced practitioner of Qigong and movement pedagogy. She has an extraordinary professional knowledge in Chinese medicine as well as in many areas of Western medicine, and an exceptional ability to write and explain in an engaging and understandable manner. In this way, she is able to make this extremely rich subject accessible even to the laic, both theoretically and practically. The book is written in an easy style, yet in a very professional and clear way, and it can be read in one breath. I believe that it will enthuse readers and arouse their interest in further study of Qigong."
---
Some readers references:
"For me, the book is an invitation to Life in direct connection with my own Body, Soul and Being. It is my little encyclopedia on the Road to a healthier perception of myself and everything around me. "
Petra_the body therapist
"The book presents a wealth of knowledge in a systematic and clear way thanks to the excellent graphic design. The large number of original photographs and illustrations make the wide-ranging content accessible to the reader with such ease and aesthetic appeal that it can become a daily guide to cultivating both body and spirit."
Pawla_graphic designer
---
Preview of the book (in Slovak only)

---