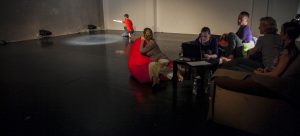 Couch corner is a place for dance and verbal improvisation in theatrical space. It is a platform for encounters between experienced dance performers from various cities on the stage set like an informal living room. The events create an interplay of discussion with abstract dance improvisation. Couch corner is a series, a kind of "dance-talk show," about philosophical as well as tangible themes related to dance, performers and cities where Couch Corner is happening.
After performances in Calgary Couch Corner has been presented in different European cities: Gdansk, Warshaw, Wroclaw, Krakow in Poland / Bratislava, Žilina, Banská Bystrica in Slovakia / Prague, Jablonec nad Nisou in Chech Republic.
The floaters of this event are Zuna and Milan Kozanek from Artyci Dance Company (Slovakia) who perform in each performance of this series. The guests were different dancers, actors, musicians such as: Ywona Olszowska, Rafal Habel, Kamila Klamut, Jaro Spring Viňarský, Martin Hajdyla Lacová, Emil Leeger, Markéta Pucová, Dano Raček, Veronika Šimková, Mirka Eliášová, Magdalena Relichová, Zuzana Burianová, Katarína Brestovanská, Juraj Yuri Korec, Kei Mimakiová, Jozef Vlk, Stanka Vlčeková, Zuzana Kakalíková, Rado Piovarči, Zuzana Hájková, Veronika Čimborová, Jana Tereková, Melissa Monteros, Wojciek Mochniej.
Extract from Couch Corner in Bratislave.


Extract from Couch Corner in Gdansk.