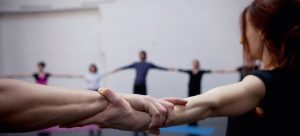 A practical research about interfacing Chinese medicine principles, Qigong and dance, focused on dancers health and creativity.
Upcoming series of workshops in 2021_Vienna.
Goal of the research is the systematization of common demands and issues of dancers within the subject of health, alongside with their solutions, and, above all, provision of knowledge, awareness and prevention. Research provides dancers with complex overview on the topic of health maintenance based on the knowledge of Chinese medicine which respects the laws of nature and on understanding the logic of the natural transformations of energies in human body which relate to evolution of energy in the course of a year. It is also based on utilization of the energetic system which is formed by interconnections between functions of individual organs and individual bodily structures (bones, muscles, joints…).
Means to the reasearch goals are practical dance seminars; lectures, discussions, shiatsu courses, and their final summary in form of a book publication. Come and learn with Zuna – an active dancer; teacher; shiatsu, Chinese medicine and Qigong practicioner  – to acquire knowledge and skills for the orientation in the health matters of your own body.
Dance seminars have these formats
– whole year weekend workshops – 5 weekends a year, i.e. one for each season, focused on peculiar needs and demands of  human body, related to the particular season of a year (based on the concept on Five elements)
– whole year weekend workshops – called "Body Awakeness", focused on interfacing western anatomy with eastern "energetical anatomy" – read Body Awakeness
– intensive 5 day workshops for professional or experienced dancers, students of dance and theatre, called "Dance and Medicine_Intensive", focused on various topics this field offers
– lectures – lectures of whatever topic and lenght can be designed for you, your students, school, festivals…
You can find detailed information about this project at
http://danceandmedicine.wixsite.com/zuna
Upcoming workshops
Whole year study – Dance and medicine (five elements) in Vienna
Apply via artyci.vienna@posteo.at
Implemented workshops
Whole year study: Prague (CZ) 2008 a 2016 / Ústí nad Orlicí (CZ) 2007 / České Budějovice (CZ) 2017 / Žilina (SK) 2017 / Bratislava (SK) 2019
Dance and Medicine_Intensive: Theatre Štúdio tanca B. Bystrica (SK) 2016, Academy of Perforrming Arts, Prague (CZ) 2017, Duncan Centre, Prague (CZ) 2017, TIP Freiburg (D) 2015 a 2017
Video from seriws of Dance and Medicine workshop, Prague 2016. Elements water, wood, fire and soil.