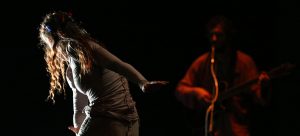 Dance-music concert for our Earth.
Upcoming performances:
2.12. 2018 at 7pm, Bratislava, Theatre Ifjú Szivek
4.12. 2018 at 6,30pm, Liptovský Mikuláš (SK)

Performance of two experienced improvisers – a dancer Zuna Vesan Kozankova and a musician and multi-instrumentalist Maok. They bring the theme of the Earth through movement material, musical improvisation, instrument selection, and visual side to express their relationship to the Nature, and encourage a more sensitive perception of a human in his search for places and roles in his life on this planet. The performance is also connected with the improvisation of the famous Slovak light designer Jan Čief. Another dimension of the performance "For Gaia", is to show that even an improvised performance can express specific themes and attitudes of artists.
Nowadays, this already successful performance is addressed to a wide audience by its versatility. And, although, it has been based on European culture, it is able to resonate even in the context of other traditions and cultures. This was prooved when it became the one of the most successful performances at the Beijing International Dance Festival NEW in China (Beijing, Xi'an).
Dance: Zuna Vesan Kozánková
Music: Maok
Lights: Ján Čief
Photographs: Boris Verseghy, Zuna Vesan Kozánková
Performances 2018
22.4. o 19,00_Tabačka Kulturfabrik / Košice
25.4. o 19,00_Divadlo Štúdio tanca / Banská Bystrica
2. 12. o 19,00_Divadlo Ifjú Szívek / Bratislava
4.12. o 19,00_Dom kultúry / Liptovský Mikuláš
Supported by Slovak Arts Council.

Video of the show in Slovak National Theatre, May 2015.
Performances 2013-2017
4. 2017 – Wrocław, Center of Artistic Initiatives (PL)
25.4. 2017 – Poznań, Polski Teatr Tańca (PL)
22. 11. 2017 – Litomyšl (CZ)
8. 4. 2016 – Prague (CZ)
26. a 27. 8. 2015 – Beijing (China)
30. 8. 2015 – Xi´an (China)
4. 5. 2015 – Bratislava, Slovak National Theatre (SK)
24. 4. 2014 – Wroclaw, Studio Na Grobl (PL)
25. 4. 2014 – Žilina, Stanica Záriečie (SK)
27. 3. 2013 – Divadlo Štúdio Tanca, Banská Bystrica (SK)