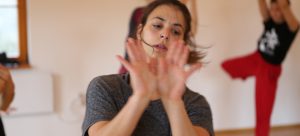 An intensive training with Zuna and Milan where dance becomes means of Qi cultivation and Qi materializes into a cultivated dance form through the medium of movement.

Workshops / Intensive research / Creative process
Dancing Qigong" is an open platform of our systematic and concentrated work in a field of interfacing dance and qigong. Qigong literally means "work with the Qi energy". Qi means energy, vital life force, thanks to which we are alive. Qi circulates in our bodies in energetic pathways, also called meridians, and it is also connected to our internal organs which are nourished by chi. Gong means activity, work, ability and also time and attention we spend on using our Qi. Essentially, qigong may be entwined with dance, as there is a parallel between the two. It may become a subconscious aspect of a mover´s/dancer´s way of self-expression either in training, improvisation or even during a performance time on stage.
The system of Qigong and its exercises have developed over thousands of years. Its very core is derived from dance and from traditional ancient rituals. This system has been inspiring us for many years, up to now, and we have gathered lots of partial findings and observations throughout this time on how application of qigong practices improves our pedagogical work, creative processes, as well as our stage performance and interpretative skills. As dance artists and pedagogues, we continually strive to deepen and develop this knowledge into further and new levels. Thus, the term "Dancing Qigong" is an open platform of our systematic and concentrated work in this field.
We do not focus our attention on particular form of practices/exercises, but rather on application of their principles. We see huge potential in the latter for aiding and enriching movers, actors and dancers in a number of areas of their professional lives:
– improving their technique
– enhancing their interpretative abilities as performers
– providing deeper knowledge of healthy and effective body work, aiming to prolong their artistic career
– opening doors to new creativity
---
Our work is divided into these areas:
A) Qigong exercises aimed at preparing and activating the body (as a start of a new day or before rehearsals)
– qigong practices for activating Qi in one´s body and getting it moved around the body in meridians,
– getting acquainted with energetic and movement centers,
– practices which use the energy activated in one´s body for strengthening of bones, joints, ligaments, tendons and muscles
B) Physical (or dance) training
Focused on understanding the structure of a human body and perceiving mutual movement relations and forces which connect the bodily parts into a whole. Through a variety of exercises we focus on:
– supporting the flow of the vital Qi energy in body and conscious channeling of this energy by means of movement into different parts/layers of the body,
– understanding of how the rotation of joint centers works, searching for harmony and balance of and in the body
– transferring energy through and into joints and bones
– strengthening our bone structure and discovering a balanced alignment of body through learning about is correct physio-dynamics,
– conscious work with the essential physiological and energetic centers
– evolving the movement potential of our bodies
During the entire training, we do not put emphasis on the external form, but rather on integrating and understanding of the essential concept underlining the work and its individual principles. We put emphasis on what it means to consciously detach one´s self from the "critical and judgmental mind" of a dancer or performer, through what one becomes more of an "observer" than a "doer".
C) Creating a system of assignments for improvisation
– using traditional and established qigong forms, but also just pure principles with no specific or defined forms as basis for movement improvisation alone or with a partner
– discovering new movement vocabulary during the creative process
D) Creating a system of preparatory exercises for performers to be used before the show/performance
– activating the vital energy to be used in introspective focus of one´s attention (coming at inner peace, tuning the concentration before the show onto one´s performance feats)
– mental and movement preparation which effectively warms-up and strengthens muscles and tendons of performers
We develope this work  through workshops, intensive research and creative process.

---
For its vastness we have divided the work thematically into different circles. Topics of seminars and researches:
The Meridian Flow
The ´Meridian Flow´ workshop/research is focused on the conscious work with the skeleton structure, enriched by the logic of the Qi energy flow in meridians. Activating energy in a certain meridian pathway can be an impulse to discover new movement possibilities and physical connections, as well as new qualities for movement or dance. These unusual body connections generate new links between the particular parts of the body. The conscious work with meridians has, at the same time, a great impact on health, and therefore offers a healthier approach to professional artists to their body and their profession and can be an inspiration in their creative work, but also in their lifestyle.
The Flow of 5 Elements
The workshop/research is focused on working with yin-yang transformations and then with the flow of five energy transformations (5 elements) around us, but mainly in the movement of our own body. During practical lessons (including vigilant physical improvisations, movement connections and motion research), as well as theoretical lectures, we offer students a preview of the concept of the five elements and the flow of energy between them. The student will mentaly but mainly in his own body feel the transformation, and start to use his potential in the movement.
Embodied Yin-Yang
Yin-yang, the cosmic principles of a single Qi energy, allow by their rotation and interaction the birth and development of the world and everything in it. This principle also plays an important role in dancing. It is a part of kinetic, spatial or musical dynamics, but it also respects the natural disposition of the body and the possibilities of movement. Old Eastern Knowledge divides the surfaces and parts of the body into yin and yang. Of course, they have different roles and options that should be respected. Dancer, often out of ignorance, uses them the opposite way, resulting in a greater tension in the body, loss of balance, blockages, pain, etc. The workshop provides an insight into this concept, which has been applied to the human body over the millennium through Qigong or Tai-chi-chuan exercises.
The Body Awakeness
The workshop is a space in which we can perceive, observe, and exercise by a conscious, vigilant mind. Such a mind has enough time to listen to the energy of the body, to recognize its feelings, and to use natural stimuli for free movement. Through the inner body experiences, we recognize the true intelligence of our body, its subatomic physics and logic of motion with natural mechanical patterns. All this can happen only through the present moment, where the vigilance of our mind is truly essential. "Incarnated mind,"ergo "embodied mind", is what we are about.
The Anatomy of Movement
The workshop is an insight into Milan's philosophy and philosophy of thinking about the human body and about the creative movement in the perception of the complementarity of the human body. It is aimed at strengthening of the skeletal system, at the work on the conscious structure of the body and at the correct use of body physi-dynamics. Students will also learn about locomotive and energy centers, exercises to strengthen the bones, joints, tendons, ligaments and muscles by activating the energy in the body. Throughout the workshop, the emphasis is not placed on the form, but on understanding the concept of work and individual principles. To know what means a conscious separation from the ´dancer's critical and conciliatory mind', which makes us more observer than the 'performer'.
---
Institution, groups and project we have worked with this way:
Dance theatre Studio Tanca /B. Bystrica / SK – creation of a piece "Spaces" (awarded by Slovak Theatre Award "Dosky" (2019)
Honey and Dusted (SK) – creation of piece "Eu.genus", "Uninterested Scream", "Out of the Box" directed by A. Kalinka / 2018, 2019, 2020
The Nine Theatre, Beijing (China) – creation of piece "Within" / 2018
Transformation /Beijing, China – Choreo-Lab inspired by The Book of Change(Yi Jing) / 2016
Artyci Dance Company/SK – creation of pieces "For Gaia" and "Satsang" 2015-2016
Dancing in the Mountains /CZ – International summer dance camp / 2000-2016
Studio Matejka /Wroclaw /PL – theatre research / 2012-2013
Pangea Meetingpoint / Eagle Mountains /CZ – theatre research, piece "Split second" / 2015
Teatr Piesn Kozla /Wroclaw /PL – creation of the piece "Dead Walk Love" / 2015
Res Ratio Network – Efi Birba /Athens /GR – international residency / 2016
TIP – Schule für Tanz, Improvisation und Performance /Freiburg / D – conducting workshops 2014-2015
Dance and Medicine – project of interfacing dance with chinese medicine principles
Puppet theatre Bratislava (SK) – creation of piece "The King" directed by A. Kalinka / 2017
---
Our studies of qigong, tai-ji-quan and chinese medicine:
Zuna – study of Chinese medicine, acupuncture, moxibustion, qigong, praxis of qigong at Shiatsu School (established by Zuna), study of Universal Tao Healing System, study at Academy of Chinese Metaphysics, studies at mastre Zhong Xuechao
Milan – master of Sam F.S. Chin – I Liq Chuan, study at Academy of Chinese Metaphysics.
---
Seminars and researches 2022
17.-19.8. 2022 – Dancing Qigong, Out of the Toolbox festival, Ghent (Belgium)
17.-18.8. 2022 – TAO of Dance, Out of the Toolbox festival, Ghent (Belgium)

Implemented seminars and researches 2016-2021
June 2021 – Breath in Movement / Movement in breath, Bratislava (SK)
July 2021 – Dancing Qigong, High Tatras mountains(SK)
July 2020 – Dancing Qigong_TAO TANCA, High Tatras mountains (SK)
May 2019 – Dancing Qigong_EMBODIED YIN-YANG, Bratislava (SK)
June 2019 – Dancing Qigong_MERIDIAN FLOW, Freiburg (SK)
August 2019 – Dancing Qigong_THE FLOW OF 5 ELEMENTS, High Tatras mountains (SK)
August 2019 – Dancing Qigong_EMBODIED YIN-YANG, Beijing (China)
October 2019 – Dancing Qigong_MERIDIAN FLOW, Bratislava (SK)
November 2019 – Dancing Qigong_ANATOMY OF MOVEMENT, Bratislava (SK)
November 2018 – Dancing Qigong_MERIDIAN FLOW, Banská Bystrica (SK)
September 2018 – Dancing Qigong_LIQUID JOINTS, Prague (CZ)
July 2018 – Dancing Qigong_MERIDIAN FLOW, Mlynica, High Tatras (SK)
May 2018 – Dancing Qigong_ ANATOMY OF MOVEMENT, Bratislava (SK)
August 2017 – Dancing Qigong_BODY AWAKENESS, Pangea Meetingpoint, Eagle Mountains (CZ)
March 2017 – Dancing Qigong_ENERGY IN DANCE AND PHYSICAL ACTION, Rotterdam (NL)
February 2017 – Dancing Qigong_THE FLOW OF 5 ELEMENTS, White Carpathian Mountains (SK)
Máj 2016 –Dancing Qigong_ ENERGY IN DANCE AND PHYSICAL ACTION, Bratislava (SK)
July 2016 – Dancing Qigong_MOUNTAIN ZOOMING, Pangea Meetingpoint, Eagle Mountains (CZ)
August 2016 – Transformation (ChoreoLAB) – The NEW festival, Beijing (China)
October 2016 – Dancing Qigong_BASIC, White Carpathian Mountains (SK)
December 2016 – Dancing Qigong_ ENERGY IN DANCE AND PHYSICAL ACTION, Athens (GR)
---
Video from Dancing Qigong 2016 / Pangea Meetingpoint, Eagle Mountains (CZ)
Video from Dancing Qigong 2016 / Surya Centre, White Carpathian Mountains (SK)