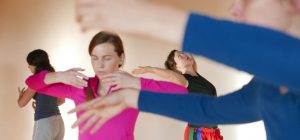 Dancing in the mountains
The Flow of Five Elements
24. 7. – 3.8. 2019, Mlynica, High Tatras (SK)
19th year of popular summer dance school Dancing in the Mountains with Zuna and Milan is taking place in beautifull nature of High Tatras, Slovakia. We are going to work on interfacing dance with the principles od Chinese medicine and Qigong – 5 elements, by means of dance technique, floor work, improvisation, contact improvisation, partnering and morning Qigong. Workshop is designed for experienced dancers, actors, movers who want to deepen their knowledge about the body and enrich their experience in motion, dance techniques and improvisation.
The workshop/research The Flow of 5 Elements is focused on working with yin-yang transformations and then with the flow of five energy transformations (5 elements) around us, but mainly in the movement of our own body. During practical lessons (including vigilant physical improvisations, movement connections and motion research), as well as theoretical lectures, we offer students a preview of the concept of the five elements and the flow of energy between them. The student will mentaly but mainly in his own body feel the transformation, and start to use his potential in the movement.
Contents of the workshop:
– activating Qi in one´s body and getting it consciously directed to independent body parts
– getting acquainted with the principles of 5 phrases transformation (5 elements) teoreticly as well as practicly by means of Qigong and movement
– discovering new movement possibilities by using quality of particular element independently and consequently by by using the tranformation between elements
– utilization of this knowledge in searching for new movement vocabulary
– conscious work with the essential physiological and energetic centers – dantians, and 19 physical centres
More about Dancing Qigong project you can find here
Price 
173,- € Early Bird untill 17.5. 2019
198,- € Regular
148,- € Students (first 5 students)
Accomodation and food will be payed after coming.
Venue
Mlynica, Space of forestry pedagogy, High Tatras Mountains, Slovakia
Accomodation
The participants will be accomodated in Slnecnica guesthouse (The Sunflower), in the closest village, in 2-3 bed rooms. One night costs only 11,- € / total price for accomodation is 110,- €.
Vegan catering will be supplied twice a day (lunch and dinner) at the price of 4,50  € by meal.
Schedule
24.7. – arrival untill 8pm – introduction and presentation of the aim of the workshop
four days of research / one day off / four days of research
3.8. – departure day
Contact and applications
In regard to the research form of the workshop, it is open for experienced dancers and movers and limited to 16 participants only. Please send your application with CV and motivation letter to artyci@artyci.com and apply via form (see below).
We accept only participant who can participate on the whole reseach time, 24.7. – 3.8. 2019.
From public sources supprted by Slovak Art Council

How to get there?
The closest airport is Poprad (TAT) – just under the hills. Other oone is in Košice (SK), Bratislava (SK), Vienna or Prague. There is a direct train connection to High Tatras – Poprad Tatry station. From Vienna it takes 5 hours (the train at 14:13 from Vienna), the others are longer. From Prague it takes 6 hours 45 min (the trains at 14:10 and 14:48).
For more detailed information contact us via artyci@artyci.com
Apply via this form

The Flow of Five Elements