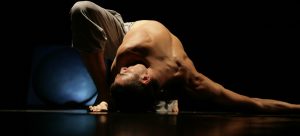 .Self-searching intimate ritual about finding one's own body.
The fact that our observing faculties are not adapted to consider physical and metaphysical communication as a way of interpersonal communicating dose not mean that such form of communication is not possible… Two bodies trying to find their way in a chaos of abbreviations, fake symbols and values of commercial culture, getting through situations with leftovers of connection with the ancient conscience.
dance by_Zuna Kozánková, Robert Tirpák (or Petr Opavský)
choreography by_Zuna Kozánková, Róbert Tirpák, Milan Kozánek
set design and costumes by_Eva Rácová
music advisor_Jozef Vlk
video by_Lukáš Kodoň
Premiére 6th Of October, 2007 Prague, Theatre Ponec
See photo gallery.
Video from the performance in Gdansk, Poland, May 2008.