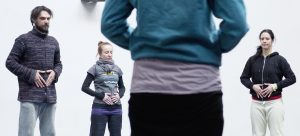 Working with the human body is for us alpha and omega of understanding our own existence, and not only understanding the physical side of our being, but also psyche. The energy in our body, which the Taoists call Qi, needs fluently flow through the body to ensure its harmonic functioning. If it does not flow smoothly, we get into imbalance and "open the door" to pain and disease. Qigong is an ancient method of cultivating energy in the body, which offers a harmonizing of its flow, and then even its enhancement and hence the activation of self-healing mechanisms of the body. Qigong has long been considered a part of medicine, especially prevention. It is therefore an excellent means of creating basic health stability.
Our work with Qigong is divided into 3 basic areas:
Dancing qigong
Lectures for the public
Intensive Taoist retreats
In our lessons we focus on the practice of inner cultivation through simple exercises. These include breathing, motion through the meridians, Qi flow through five phases (five elements), organ cleansing, internal visualization and meditation. We do not stick to fixed forms, rather we offer the body to try working with Qi through simple motion improvisations. We recommend Qigong to all who feel responsible for their health and want to keep it in a good shape by their own actions.
Read Dancing Qigong
Read Retreats