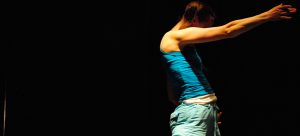 The artistic creation of Artyci Dance Company has always aimed to find new formal procedures in every new work, but also the honesty of the testimony and the honesty of the access to the creative process. Within the group, they have created 16 performances that were presented in addition to Slovakia and Europe in Canada (Montreal, Calgary), Thailand (Bangkok) and China (Beijing, Xi´an).
As guest choregraphers they collaborated with Theatre Studio tanca – Banská Bystrica (SK), Salzburg Experimental Academy of Dance (A), Northern School of Contemporary Dance – Verve (UK), University of Calgary – School of Creative and Perfoming Arts (CAN), Company of Performing Artists – Bangkok (Thailand) a Beijing 9 Contemporary Dance Theater (China).
In the last decade, the company has been intensively focused on theatre research, which is focused on education as well as on creation. Milan Kozánek has collaborated on researches with artists and performers of physical theater – Studio Matejka (PL), Res Ratio Network (GR), Piesn Kozla (PL), Honey and Dust (SK). This activity culminated in collaboration with the leading personality of the artistic group Honey and Dust, Andrej Kalinka, with whom he produced the pieces of King (2017) and EU.Genus (2018).